President's Message
While transitioning into the new role of CEO and President of Aero Tech Service Associates, Inc., (ATSA) there have been moments of reflection. Along with ATSA Founder, John M. Howard, we began ATSA 27 years ago with the idea of continuing our government careers in a support relationship with the United States Government in the private sector. It has been much more rewarding and fulfilling than we originally imagined, and we are proud of ATSA's many successes over the years. ATSA remains a multi-disciplinary high-technology Small Disadvantaged Business/Small Business (SDB/SB), and currently designated as a Woman Owned Small Business (WOSB).
ATSA will continue to provide best-value solutions to our customer needs in aircraft maintenance, telecommunications support, information technology, aviation regulatory compliance, airspace systems inspection, logistic engineering support, engineering and simulation support, technical training, as well as other operations and maintenance support services. Our reputation for excellence and total customer satisfaction has become a company trademark.
ATSA's past and future achievements have been and will be directly related to sound management philosophy and approach, which is our firm commitment to quality products and performance that consistently exceeds our client expectations. In support of this goal, we have made complete client satisfaction the hallmark of our company. ATSA believes that our team's spirit and work ethic embodies the very essence of our corporate motto of "Service ~ with integrity." We take pleasure in knowing that our employees feel as we feel that our customer is their customer and our customer's satisfaction is paramount.
With a 27 year history, there have been many dedicated hard working individuals that have contributed to ATSA's recognition and highly respected reputation. As we continue moving forward, ATSA is steadfastly acute to the core principles that have been established over the years. We will remain ever-vigilant as we embark on this continuing new journey as well as remain dedicated stewards of HIS blessing.
God Bless,
Patricia A. Howard,
CEO and President
About Us

Mrs. Patricia A. Howard
CEO and President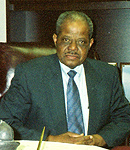 In Memory of John M. Howard